Fingerprint: Advanced Tool for Authorship Verification
When to use Fingerprint?
Fingerprint will be helpful in checking students' works with suspiciously low similarity percentages, especially if you feel that the style of the paper is somewhat off. For example, the document you can see below has a 0% similarity score, but what if the phrasing is very different from what you would typically expect from this student?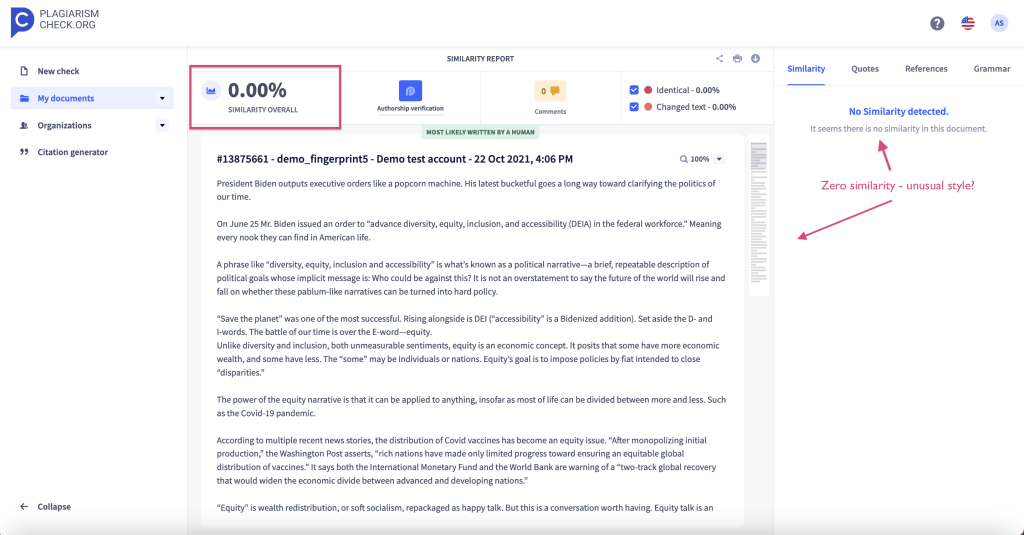 Alternatively, Fingerprint will help you understand if the author resorts to sneaky text manipulation tactics. For instance, they may translate some portions of text from a different language using machine translation tools. Though this may help them sometimes circumvent most plagiarism detection algorithms, Fingerprint will catch the style variations and signal that you should pay more attention to the text at hand.

Fingerprint can also help catch cases of heavy paraphrasing used to conceal plagiarism. As a rule, this is done with text-spinning tools, which can make the text sound somewhat unnatural, though it may sometimes outsmart similarity detection software. Fingerprint will identify the changes in the author's style and predict the likelihood of them being the author.
How to use Fingerprint?
Make sure you are logged in PlagiarismCheck.org, otherwise the button doesn't appear on a report.
To start using Fingerprint, you need to feed it a sufficient amount of text written by the author whose authorship you want to verify. That is, to launch authorship detection, you need to make sure you have checked the total of at least ten pages of the original text (parts with a high similarity score are excluded from the word count). 
To activate Fingerprint for a specific user, you should log in as a Teacher or Owner and click on the Fingerprint icon in each of the user's reports, including the document that needs authorship verification.

How to interpret the results?
The algorithm will analyze the user's submissions based on eight major components. Just in under 20 seconds, you will get a color-coded result. 
A full scale will imply that the document was most likely written by the author.

A half-filled scale means that the text contains elements that stand out from the author's style. 

An almost empty scale means that the text contains many elements that are inconsistent with the author's usual style.

Possible errors
If you get the following messages after attempting to use Fingerprint, make sure that there is enough original text for Fingerprint to analyze.

The example above lacks the original text to be accepted by Fingerprint (at least 3000 original characters is required for a document you want to check to authorship). The message below means that you should upload more documents from a student whose work you want to check for Fingerprint to be able to build a student's writing style profile (around 12 pages of original writing is required).

Inactive Fingerprint icon implies that Fingerprint is disabled for your group. In this case, contact your administrator to get it activated for your account.

Please note that although we have used the latest research to create a tool that would pinpoint each user's unique writing style profile, we urge you to treat its results as a mere recommendation to discuss any concerns with the student.