If a document wasn't checked
If documents submitted to Plagiarismcheck.org in Canvas are not checked, there should be an icon appearing in the grading section. For example, an exclamation mark icon will prompt you that an error occurred while the system was trying to process the document. Click on the icon and see the message below.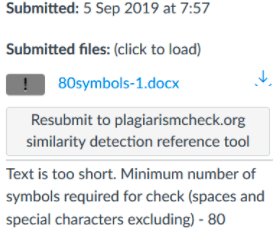 Try addressing the problem according to the message and resubmit the document to the system. 
'Text is too short. A minimum number of symbols required for check (spaces and special characters excluding) – 80' – The text you are trying to check is too short or cannot be processed by the app. If the text is longer than 80 characters, consider resaving the document in a different format and resubmit it. 
'Missing catalog' – Make sure the document you are trying to check is in the right format. This message normally occurs at an attempt to check a PowerPoint presentation. Convert the presentation to an RTF document and resubmit it.
'User(email) not in the group' – Contact our Customer Support team and ensure that the user has a corresponding account at PlagiarismCheck.org. 
'Too many non-English characters' – Either ensure that the document is saved adequately and does not contain non-English characters or contact our Customer Support team so that they disable automatic language check in your account (in case you need to check texts in a different language).
Message 'User(email) not in the group' appears in Canvas despite the automatic registration being enabled.
If you have chosen a 'Per User' plan for your group account, there is a specific number of registered users that we agreed on for your group. When the number of registered users reaches that limit, other users will not be added automatically, and will thus receive this message upon their attempt to check their document for plagiarism. In this case, please contact support@plagiarismcheck.org, and we will add extra seats. 
If there is no information from PlagiarismCheck.org in this field, make sure that the user was registered at PlagiarismCheck.org and added to your institution's group account. For this, contact our Customer Support Team. Do not forget to indicate the user's email address in your request so that we could address the issue immediately.
Please send any questions you have to our support@plagiarismcheck.org