Table of contents
A Comprehensive Overview of Popular Plagiarism Checkers

How Plagiarism Checkers Help Streamline the Writing Process

Pros and Cons of Different Plagiarism Checker Software

An In-Depth Look at Features and Functionality

Pricing Models and How They Compare Across Platforms
Intro
Truly unique ideas and original content have become the new values of the modern digital world. Plagiarism-related issues, text originality and verifying authorship are the most important problems in academic integrity now. With the progress of AI and ChatGPT and assignment writing services, it's become even more difficult to correctly detect conscientious students' papers and similarities in the texts.
Leading Institutions use different plagiarism detection new-age tools to help students, teachers, and overall educational success. So, what are the most effective and popular plagiarism checkers currently available, and how do you choose the best for you? Let's explore plagiarism software features, pros and cons, and pricing.
A Comprehensive Overview of Popular Plagiarism Checkers
Efficient plagiarism software needs advanced technology with integration capabilities, the newest algorithms, and databases.
This overview will compare some of the most popular plagiarism detection tools in 2023. It's based on our expert testing and plagiarism checker reviews from users on G2 Crowd. The top popular plagiarism checkers in our comparison are:


Plagiarism checker comparison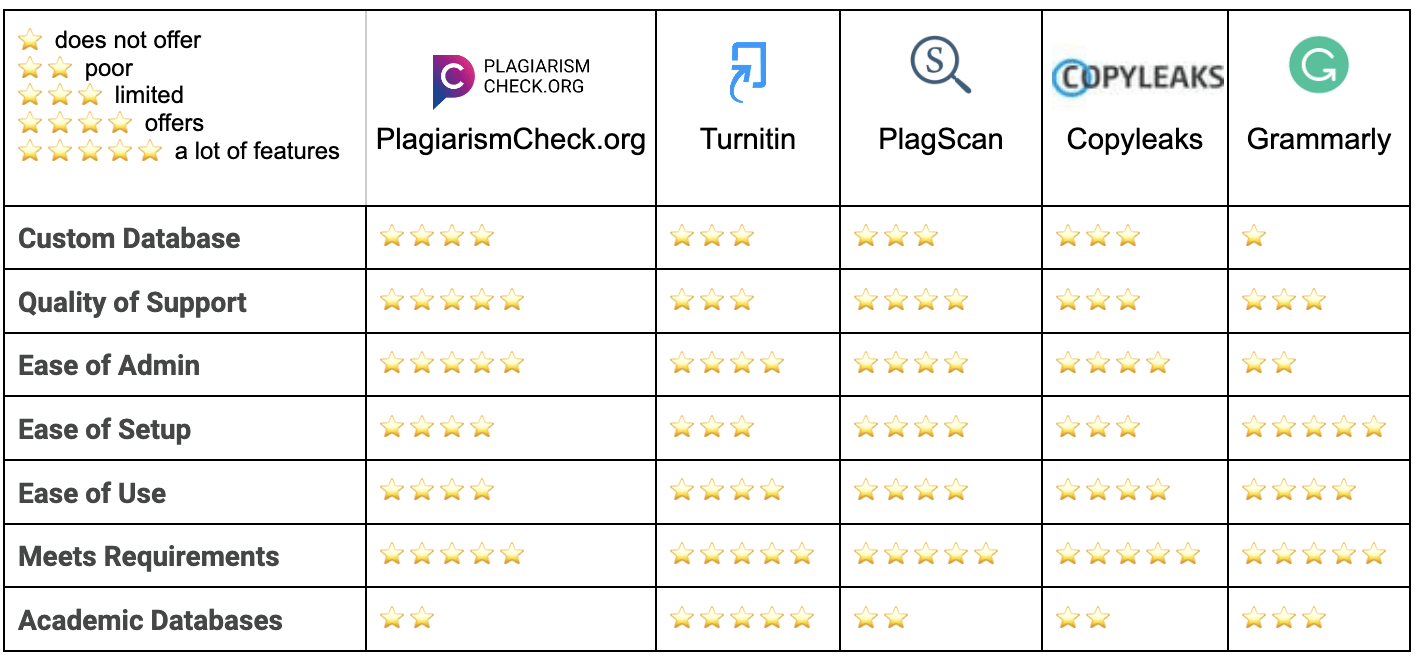 Custom Database
All the plagiarism checkers we mentioned, except Grammarly, offer a custom database feature that allows users to add their own academic papers and publications to the custom database to ensure that these documents are not flagged as plagiarized when checked against other their papers. However, there are some differences in how they work.
For example, PlagScan allows users to upload academic papers, publications, and sources to the database. PlagiarismCheck.org and Copyleaks allow users to upload their own content and create a personalized library for plagiarism detection. Additionally, the platform can integrate with other content management systems and cloud storage services to provide easy access.
A custom database feature is crucial for academic institutions and individuals who frequently publish papers or other content and want to ensure their work is not falsely flagged as plagiarized. Conversely, a personalized library can also be helpful for identifying potential self-plagiarism.
Quality of Support
These five plagiarism checkers offer customer support through email and comprehensive knowledge bases and FAQ sections on their websites to help users troubleshoot issues independently. Most of them also have live chat support, except for Turnitin. However, Grammarly and Copyleaks do not offer support via phone, which may be a drawback for some users. Only PlagiarismCheck.org offers a full range of support options, including 24/7 live support via phone.
Ease of Admin
All of the five plagiarism checkers offer a user-friendly admin panel that allows administrators to manage users, documents, and settings. PlagiarismCheck.org, Turnitin, Copyleaks and PlagScan all provide access to usage reports and detailed analysis of plagiarism check results.
However, it is essential to note that Grammarly has no admin panel or management features since it is primarily designed for individual users.
Ease of Setup
The ease of setup for these plagiarism checkers is generally similar, with each platform offering a straightforward account setup process that can be completed in just a few minutes. Users on G2Crowd gave the highest score of ease setup to Grammarly (9,6) and the lowest to Turnitin (7).
All of them, excluding Grammarly, offer integrations with Learning Management Systems such as Canvas, Moodle, Blackboard, etc. But only PlagiarismCheck has integration with Google Classroom. It can streamline the process for educators and students to use the plagiarism checking features. Additionally, PlagiarismCheck, PlagScan and Copyleaks offer API access, which can be useful for integrating the plagiarism checking features into other software applications.
Ease of Use
All of these plagiarism checkers are user-friendly and have a straightforward interface, making it easy for users to upload documents and initiate plagiarism checks. They also provide detailed reports on plagiarism matches, including highlighted text and links to original sources.
PlagiarismCheck.org, PlagScan, and Copyleaks focus primarily on plagiarism detection, while Turnitin also offers additional features such as grading and peer review tools for educators.
Grammarly has a clear design but is difficult to read as it uses the same color for all sources. 
Meets Requirements
All five services meet the requirement of offering comprehensive plagiarism checking solutions that support multiple file formats, making them suitable for academic institutions and businesses. PlagiarismCheck.org, PlagScan, and Copyleaks primarily focus on plagiarism detection, while Turnitin offers additional features such as instructor feedback and grading tools. Grammarly, on the other hand, is primarily a writing assistant that also includes a plagiarism checker.
In summary, PlagiarismCheck.org and Copyleaks have custom academic databases, while Turnitin and PlagScan have access to large academic databases through partnerships with publishers. Grammarly does not have a specific academic database, but its premium users can still access various sources through its plagiarism checker.
Academic Databases
PlagiarismCheck.org and Copyleaks have custom academic databases, which users can contribute to by uploading their research papers. However, the biggest advantage of PlagiarismCheck is its detailed and thorough search on the internet. Turnitin and PlagScan have access to large academic databases. Grammarly does not have a specific academic database, but its premium users can still access many web pages.
How Plagiarism Checkers Help Streamline the Writing Process
Using optimal plagiarism-checking services can significantly enhance the effectiveness of modern educational institutions, leading to unique scientific research and better results. By integrating with learning management systems and customizing settings, teachers can save time on manual analysis and verification of plagiarized papers, allowing them to give prompt feedback. Meanwhile, automated reports enable administrators to monitor the process transparently and optimize control.
Anti plagiarism apps can also help students improve their writing process. Specifically, these applications offer several features that optimize writing, such as:
The opportunity for students to check their work drafts independently and correct any issues before submitting the final assignment.

Citation generators enable students to create correct citations according to standardized formats.

Checking for grammatical and stylistic errors.
Overall, these features can streamline the writing process and contribute to better academic outcomes.
According to institutions' needs, developers add tools to plagiarism software for writing process improvement. For example, teachers can provide comments on each word or phrase to assist students.
On the one hand, plagiarism software helps students:
Create and protect original content

Inspire authenticity

Improve writing skills

Develop critical and original thinking.
On the other hand, plagiarism software helps teachers:
Support and promote academic integrity

Simplify the assessment process with incredible accuracy

Automate unbiased, convenient similarity reports

Analyze the dynamics of students' writing skills
The primary goal of modern plagiarism software is not punishment for detected plagiarism. Instead, plagiarism checkers support higher-quality academic writing and simplifying assessment, reporting, identifying risks, and analysis of academic integrity for institutions. Additionally, it streamlines the writing process, improving students' original thinking, writing, and research skills. By providing feedback, suggestions for improvement, and all writing features in one place, plagiarism software can make the educational experience even more valuable.
Pros and Cons of Different Plagiarism Checker Software*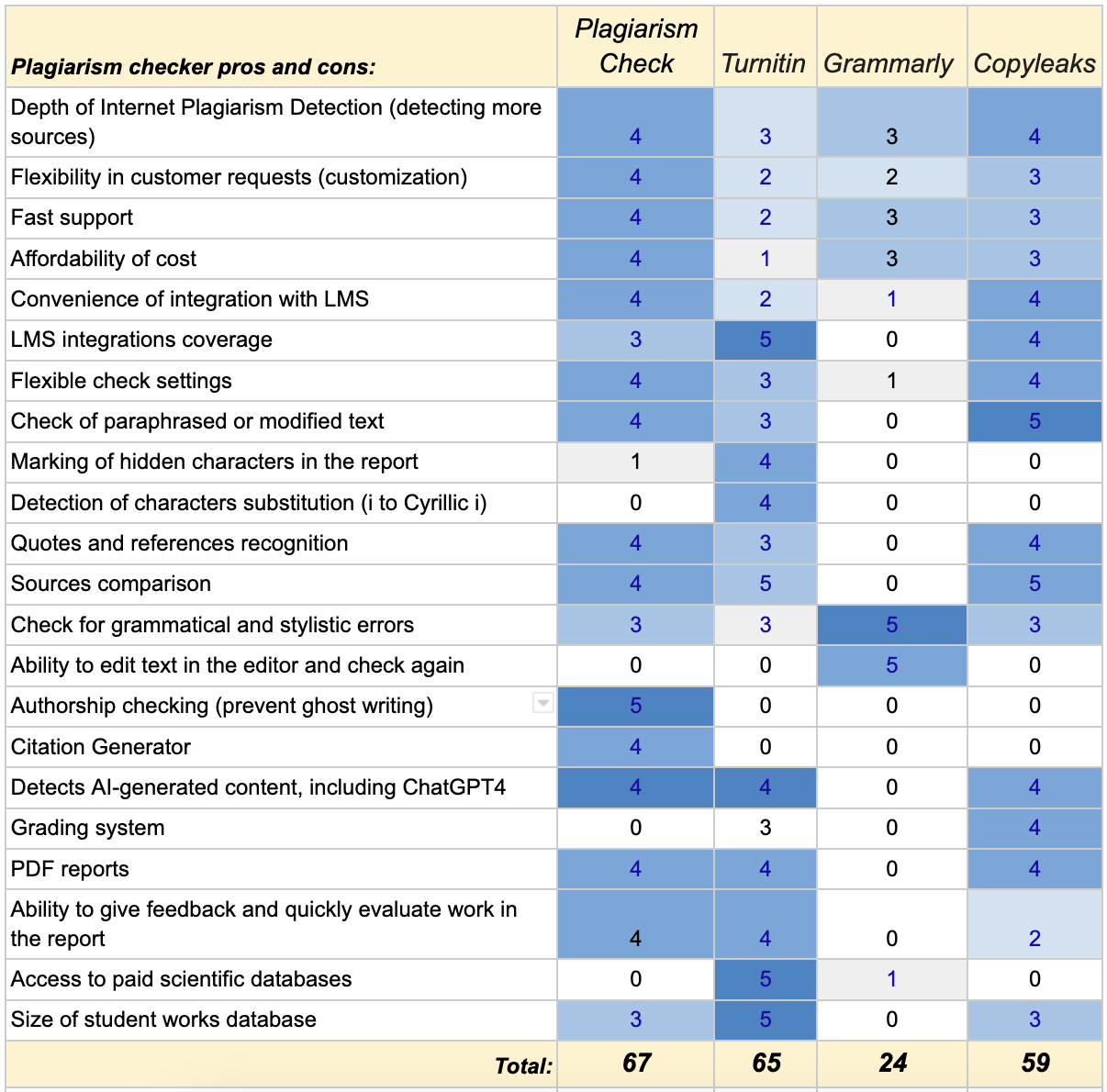 *as PlagScan was acquired by Turnitin, we excluded it from a comparison
Plagiarism software comparison reveals the most common disadvantages of anti-plagiarism apps are: 
Low flexibility

Pricey solution 

Low responsiveness to specific customer needs

Slow support

Hight downtime

Low

plagiarism checker user experience

Restricted integration with learning management systems (LMS)

Constrained API integration

Narrow support for non-English languages

Limited

plagiarism checker features

Weak plagiarism detection accuracy
Pros of PlagiarismCheck.org 
✅

PlagiarismCheck.org

                   for the profitable use of resources 💲

                   f

or Teacher effectiveness

🧑‍🏫

                   for Student success 🧑‍🎓

                   for advanced modern education ✔️

                   for boost scientific research

💡

                   for high academic results 📈
An In-Depth Look at Features and Functionality
Modern plagiarism-checking services provide a solution to a serious problem of academic integrity that has affected the educational process worldwide in recent years. For example, in addition to text similarity analysis (detecting the use of someone else's text without citations and references) and cheating (hidden and substituted symbols), PlagiarismCheck can:
Check whether the content was written independently or with artificial intelligence tools, such as Chat GPT. Learn more about

OpenAI Text Classifier

.

Verify authorship and originality of a student's paper by automatically comparing the work to the student's previous writing style and checking for signs of writing for someone else (contract cheating cases).

Compare classmates' works against each other.
Core plagiarism checker features
similarity detection
citation check
grammar check
These issues are critical to ensure fair evaluation of students' progress and maintaining academic integrity. By implementing plagiarism checkers, educational institutions can significantly reduce expenses and optimize staff time while ensuring the highest results.
In summary, modern plagiarism-checking services can effectively address the challenges of academic integrity, ensuring that students' independent work is evaluated relatively and promoting a more transparent and efficient educational process.

Pricing Models and How They Compare Across Platforms

Plagiarism checker pricing varies, depending on many factors. In general, different subscription plans are offered for organizations (For K-12, Higher Ed, research institutions, and businesses) and individual users (For students, writers, and bloggers). Plagiarism software pricing mostly depends on the number of users, the limit of pages to check, and additional features, depending on your needs.
You also can try plagiarism checker free trial, for example, at PlagiarismCheck.org or Grammarly website. However, free limited versions have much less functionality and smaller databases.
In particular, the Advanced package for Institutions in PlagiarismCheck.org starts from $1 per user and includes:
Institutional web-based account, no installation required

Search via all publicly available resources

Initial training and onboarding

Integration with LMS: Google Classroom, Moodle, Canvas

Create a personal archive for your Institution and search through it

Google Docs Add-on

Uptime 99.9%

Training, onboarding, personal account manager
In the Pro account for Institutions, you will already be offered:
Fingerprint Authorship Verification

Grammar checker

Integration with any other LMS

Search in closed depositories and libraries

VIP support

Custom feature

Any Interface language

Plagiarism checker cost comparison based on different plagiarism checker subscription plans or packages. It is also worth noting the completeness of the plagiarism checker ecosystem to meet exactly your business goals.
PlagiarismCheck.org is a core product with various features such as Fingerprint Authorship Verification, Grammar Checker and OpenAI Text Classifier. 

The price for organizations starts at $1/user, and for individual users, the subscription starts at $5.99 for 20 pages (or $0.30/page):
Сopyleaks offers Plagiarism Detector, AI Content Detector, and AI Grader. Here they don't have individual plans and just offer a monthly or annual subscription, they start with 100 and 1200 pages, respectively. The price varies depending on the number of pages.
Turnitin has the largest suite of products and offers, in addition to the core Turnitin Originality and Turnitin Similarity: Feedback Studio, ExamSoft, Gradescope, iThenticate and Revision Assistant. They only offer individual payment plans.
PlagScan is one of Turnitin's applications. As well as Unicheck, who joined this family too. 
PlagScan offers PlagPoint packages without a subscription. The private Plan starts at $ 5.99 for 24 pages ($1/1,000 words).
Grammarly Checker is already one of the additional features of Grammarly (Premium and Business Plans), Starting at $12.00 USD/month.
FAQ
Can plagiarism checkers be used for other types of content besides academic writing?
Yes, plagiarism checkers can be used for any text content, such as articles, blog posts,  business and legal documents, social media posts, and more. 
How accurate are plagiarism checkers in detecting plagiarism?
The accuracy of each plagiarism checker varies by many factors, such as text type and language. Some checkers are more accurate than others in searching the Internet and identifying cheating or the use of AI. Others may have larger academic databases of research papers and better algorithms for detecting paraphrased text. None of the checkers gives a 100% accurate result but shows clear percentages of various signs of plagiarism, based on which the teacher can draw reasonable conclusions.
Are there any free plagiarism checkers available?
There are some free plagiarism checkers available such as Quetext, Grammarly, PlagiarismChecker, etc. 
How do plagiarism checker subscription plans differ from one another?
They differ in the features offered, the number of users, pages, the possibility of custom settings, etc.